"Alon's Law" Legislation Page
Support Alon's Law by sending your own letter of support: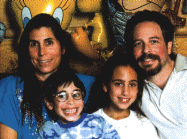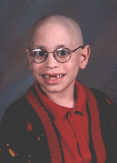 Write to your United States Congressman
Write to your United States Senator
Write to your California State Senator or Assemblyman
**Copy of Response Letter from Barbara Boxer**
**Copy of Response Letter From Tipper Gore**
**Copy of Letter From Former California Governor Pete Wilson**
*ALON'S LAW:
*University Medical Professors in the United States can invite doctors or surgeons licensed in a foreign country or another state to their university facility in the United States for brief periods for training of staff here, surgery or treatment of patients.
Copy of the letter sent to Senator Barbara Boxer:
From: BARRY and LAINIE SUGARMAN
To: Senator Barbara Boxer
DATE: 12/12/98
Dear Senator Boxer,
... We are writing to you today because we know of your special interest in HMO/Health Insurance/Medical reform. We would like to request some very special amendments to this legislation that we term "Alon's Law" after our 7 year old son, Alon Sugarman. Here is the background.
On January 4, 1998, we took our son to an orthopedic surgeon due to pain in his knee. An extensive series of x-rays was taken, and the findings were consistent with growing pains.
On March 6, 1998, another x-ray of our 7 year old son, Alon, revealed a rare malignant bone tumor in his femur, Ewing's Sarcoma. Our response was immediate; we instituted a chemotherapy program. The protocol for this disease calls for chemotherapy for 48 weeks, with surgery at the 12 week point to include removal of the affected bone.
There were several options for removal of the bone including rotationplasty, (partial amputation), endoprosthesis (titanium bone implant) and allograft (cadaver bone implant). We were only offered rotationplasty at the facility that we were at. After extensive research on our own, we located surgeons in England who have performed literally thousands of surgeries to replace the femur and knee in small children with a custom made "Stanmore Extendible Endoprosthetic Replacement" (SEER) that has an internal growth mechanism which can grow with our son with only a very minimally invasive surgical procedure. It has a car jack type mechanism activated by insertion of a key. This custom made device is not available here in the United States. We flew to England, and the surgery was successfully performed.
Here's where we need your assistance. After exhaustive research, phone calls and persistence, we gained approval from the surgeon in England to come here to the USA, hospital approval, malpractice insurance approval, and the approval of two prominent University Professors to perform the surgery here in the USA. We could not get the California State Medical Board to approve the surgeon from England to operate our son for one surgery here so we had to go to England to receive the very best device for our son. There was also a missed opportunity to educate the doctors here in the U.S. on how to install and maintain the Stanmore device. Additionally, we had to front the money because the insurance company initially would not approve the procedure, and they delayed their decision at least 60 days, well beyond the time specified in the treatment protocol.

Our specific requests for legislation are as follows:
1) Legislation permitting any properly licensed foreign surgeon or surgeon from another state in the United States to perform any surgery or procedure in any U.S. facility provided that approval of any recognized University Professor of Medicine is obtained, and any locally licensed medical doctor is also present. This would need to supersede existing state laws. This is not unlike attorneys being allowed to practice in another state on an occasional basis.
... While we know this is a difficult wish list to accomplish, we will help in any way possible. We are available to meet and discuss this request, and we look forward to a Whitehouse signing ceremony at a date in the near future.
For your general interest, I have attached a copy of a letter from our oncologist, and a picture of my son. I have also started a web site which may be seen at:
http://www.diverstech.com/ewings.htm
Thank you very much.
Sincerely,
Barry Sugarman Dr. Lainie Sugarman
Barry Sugarman Dr. Lainie Sugarman
cc. Senator Dianne Feinstein, Representative Henry Waxman, President Bill Clinton, Vice President Al Gore, Hillary Clinton, Tipper Gore

Phone (310)355-6046
FAX (310)454-9592
E-Mail: barry@diverstech.com



© Copyright, 1998, 1999, 2000, 2001 Barry Sugarman, B.S.ENGR., All Rights Reserved.
Phone 310-355-6046, FAX 310-454-9592
Your support, contributions, and feedback are welcome:
Alon's Law Organization
15515 Sunset Blvd., Suite 115
Pacific Palisades, CA 90272-3530
http://www.alons-law.org
e-mail: barry@alons-law.org
Contributions are not tax deductible.
This site last updated on May 14, 2002